AquaTryp™ is our ready-to-use gentle enzymatic cell detachment reagent. A non-mammalian, non-microbial enzyme mixture, AquaTryp™ can be readily incorporated into most routine cell culture protocols. With predominantly trypsin enzymatic activity, AquaTryp's enzyme profile makes it an excellent alternative to mammalian and microbial trypsin for most applications. Benefit from all of the advantages of trypsin without the risk of mammalian and bacterial sources.
AquaTryp™ is made in Switzerland and is available both in 100ml and 500ml bottles.
AquaTryp™ Gentle Enzymatic Cell Detachment Reagent for Cell and Tissue Culture
The cold-water adapted aquatic source of trypsin in AquaTryp™ endows it with several advantages over traditional porcine trypsins. AquaTryp™ is functional across broad pH and temperature ranges, making it possible to detach cells or dissociate tissue at lower incubation temperatures. This is of particular interest for researchers working with sensitive cell types, primary cell preparations, organoids, and similar applications.
Provided sterile, low-endotoxin, and ready-to-use, AquaTryp™ is specifically formulated to ensure optimal cell detachment performance whilst limiting undesired cell surface protein lysis. EDTA aids with gentle cell detachment, contributing to the superior performance of AquaTryp™ when benchmarked against a commonly used crustacean-derived competing product. AquaTryp™ is the superior choice for sensitive cell types.
Product details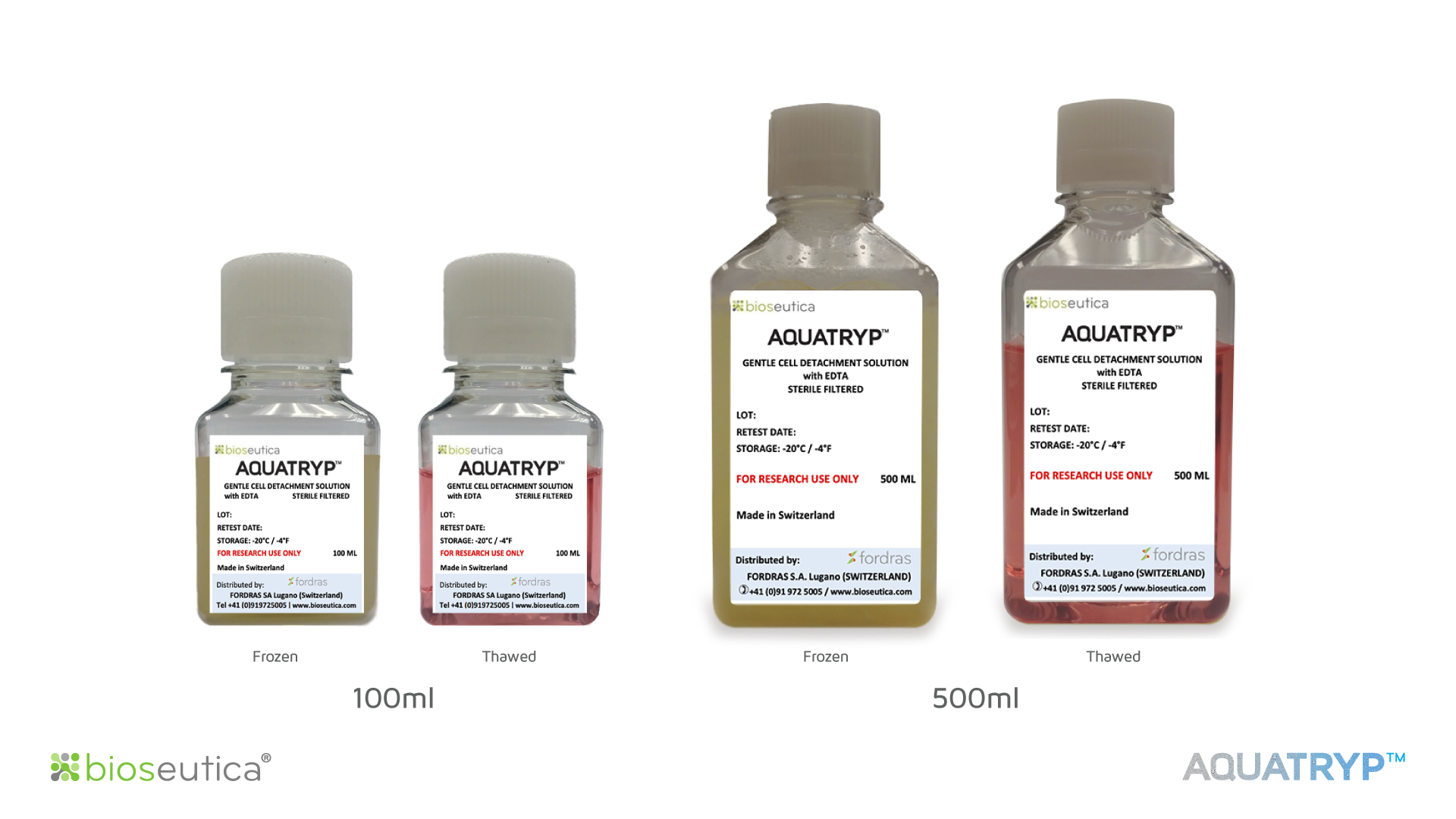 Contact us today to request your free sample and share your experience with us!
Appearance
Pink Orange, clear @5±2°C - Yellow @20±5°C.
pH
pH: 7.0 - 8.0
Sterility
PASS
Cell Detachment Activity
PASS
Endotoxins
<1 EU/mL
AquaTryp™ is ready-to-use, conveniently prepared with phenol red pH indicator and EDTA.
AquaTryp™ can directly replace trypsin in most applications. We advise users to determine volumes, incubation times, and temperatures empirically for their specific application. Contact us to discuss your specific requirements.
Recommended adherent cell detachment protocol
1. Allow AquaTryp™ to thaw in the refrigerator (5°C / 41°F) or at RT, and once thawed proceed to step 2.
2. Remove media from the culture vessel and gently wash cells with sterile PBS3. Add AquaTryp™ directly to the culture vessel at a volume that entirely covers the cell layer. We recommend 3ml per T75 flask or 100mm dish
4. Incubate at 37°C for 3 minutes, RT for 5 – 10mins, or until cells are visibly detached. Detachment of strongly attached cells can be aided by firmly tapping flask or plate against hand or surface
5. Resuspend cells in the growth medium, count cells as required, and passage, as usual,
Storage Warning
>> DO NOT PRE-WARM AT 37oC * <<
AquaTryp™ constituent enzymes are cold-water adapted: the enzymatic activities are reduced at temperatures above ambient. AquaTryp™ is shipped frozen under temperature-controlled conditions.
Upon receipt, store at -20°C/-4°F. If required for immediate use: allow AquaTryp™ to thaw at refrigerated conditions (5°C / 41°F) or at Room Temperature (RT), aliquot into required volumes, and immediately store at -20°C / -4°F.
Once thawed, AquaTryp™ is stable at 5°C/41°F for 1 week. Cell detachment performance is retained following several rounds of freeze-thawing.
Refer to bottle for retest date.
Download